Overall Rating:
Total Customer Reviews:
(0)
Availability:
Usually ships in 1-2 business days
From the man who literally CREATED the poker ebook market and its poster child, Let There Be Range (a two-thousand dollar poker manual for high-stakes poker professionals), The Poker Blueprint provides the infrastructure for micro- and small-stakes players to build their game on. It also offer advanced strategies that are vital to crushing today's online short-handed games up to 100NL. YOU WILL LEARN: • How to win pots without premium holdings … Secrets revealed on page 97 • How to crush your opponents using this simple tactic … See page 177 • How to increase your win-rate with a
[Read More]
Overall Rating:
Total Customer Reviews:
(0)
WELCOME TO THE MIDDLE ZONESo often in Texas hold'em poker, you just don't know where you stand. Do you have the best hand? The worst? Within the great gray area between the stone nuts and a pure bluff it's often hard to tell. But take heart, because in this innovative new poker single, Annie Duke and John Vorhaus dive deep into the murky decision space of the middle zone, show you what it is, how to avoid it, and what to do if, alas, you step in something sticky. In The Middle Zone, you'll learn…• How to forecast your prospects
[Read More]
Overall Rating:
Total Customer Reviews:
(0)
Availability:
Usually ships in 1-2 business days
Ask the great poker players how they'd play a hand and the answer is always, "It depends." That answer can be infuriating. But guess what? It really does depend. The key to becoming a great poker player is in knowing exactly what it depends on. At last there's a book that gives you that answer. Poker is a game of so many variables: table position, flop texture, the number of players in a hand, the personalities of your opponents, and so much more. Decide to Play Great Poker teaches you how to identify and analyze those variables, interchange them within
[Read More]
Overall Rating:
Total Customer Reviews:
(0)
Poker is a game of skill. (If you have friends who think otherwise, be sure to invite them to poker night.) It requires knowledge of odds, betting strategies, and nerves of steel. With an easy-to-understand breakdown of essential poker strategy, including probability tables and advice on the inexact science of bluffing, you can bet this poker primer delivers the inside straight on how to survive poker night with your wallet intact. Odds are you'll pick up serious tips from these pages packed with information on one of the world's most popular card games. In addition
[Read More]
Overall Rating:
Total Customer Reviews:
(0)
Availability:
Usually ships in 1-2 business days
No-limit hold em was once a game played almost exclusively in casinos. But during the last decade, the game s growth has been fueled in part by the easy availability of online playing sites where participants can play cash games and tournaments 24 hours a day, every day. In Harrington on Online Cash Games, Dan Harrington shows you the key ideas and skills that will let you master the online poker world which differs in some significant ways from the world of casino games. You ll learn how to handle different stack sizes, how to play at 6-max tables, how
[Read More]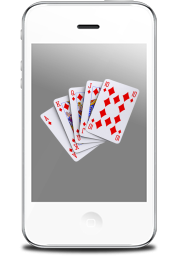 One of the most popular casino games is that of poker. It can be played at just about every casino whether it is online or land based. Thanks to today's technology, poker can also be played on a variety of mobile phones.
In order for casino games to be played on a phone, the site developers had to create a version that has been optimized for their website. Mobile phones have some different requirements in regard to being able to play casino games. For one, it helps if the site isn't heavily laden with graphics that must load.
Read the rest of this entry »
Overall Rating:
Total Customer Reviews:
(0)
Do you one day envision yourself playing no-limit hold'em for a living? Or do you hope to turn your poker hobby into a lucrative side income? If you do, Small Stakes No-Limit Hold'em is written for you. It arms you with the most important concepts and insights to make your dream a reality. It shows you how a pro crafts a strategy and then adjusts to maintain an edge over the competition. And it doesn't hold back.The fifth title from best-selling poker author Ed Miller, Small Stakes No-Limit Hold'em is his most in-depth book to date. It is a step-by-step,
[Read More]
Sit'n'go tournaments are single table events usually starting with nine or ten players and paying prizes for the top three finishers …
Overall Rating:
Total Customer Reviews:
(29)
Availability:
Usually ships in 24 hours
Free Shipping Available
Kill Phil was a revolutionary poker manual — its simplified yet potent strategies empowered even rank novices to compete against the world's best poker players.Kill Everyone begins where Kill Phil left off. Its perfect blend of real-time experience, poker math, and computational horsepower combine to create nw concepts and advanced strategies never before seen in print for multi-table tournaments, Sit-n-Go's, and satellites.Kill Everyone explains how to choose the right strategy for the right game, provides the proper tactics, and introduces new weapons into a tournament-poker-player's arsenal. These include:* fear and fold equity*equilibrium playsbubble factorsendgame strategiesoptimal heads-up playand much much more!Unlike
[Read More]
Overall Rating:
Total Customer Reviews:
(186)
Availability:
Usually ships in 1-2 business days
In Play Poker Like the Pros, poker master Phil Hellmuth, Jr., demonstrates exactly how to play and win — even if you have never picked up a deck of cards — the modern games of poker, including: Texas Hold'em, Omaha, Seven-Card Stud, and Razz.Phil Hellmuth, Jr., a seven-time World Champion of Poker, presents his tournament-tested strategies to beat any type of player, including:The Jackal (crazy and unpredictable)The Elephant (plays too many hands) The Mouse (plays very conservatively)The Lion (skilled and tough to beat)Play Poker Like the Pros begins by laying out the rules and set-up of each game and then
[Read More]
Texas Hold 'em is one of the most exciting versions of Poker available, due to its intense anticipation when the cards are dealt in. This happens gradually in four separate stages, with a round of betting after each development – The Deal, The Flop, Fourth Street (also known as The Turn) and Fifth Street (also known as The River).
Each player is dealt just two cards and will hold only these two 'hole cards' for the duration of the contest. After receiving these cards and assessing their value, a first round of bets ensues where you can call, raise or fold.